easydisi
ONE
Safety in all areas through germicidal UV-C light disinfection with easydisi.
The easydisi ONE
UV-C light technology has been used for 10 years for disinfection in hospitals and kills 99.99% of all germs and bacteria – scientifically proven!
The mobile easydisi ONE developed by us is based on UV-C light disinfection and is ideally suited for a wide range of applications thanks to its flexible application possibilities: whether hotel room, spa, seminar room, doctor's practice or holiday apartment – with the easydisi ONE, Made in Austria, you can ensure relaxed guests and customers everywhere, thanks to a germ-free environment at the highest level.
Hotel business | Gastronomy | Apartment
The easydisi ONE: top efficiency at high frequency
Especially in a highly frequented area with intensive guest exchange, an exceptionally high level of hygienic safety provided by UV-C light disinfection is a top priority. The guests will thank you with corresponding loyalty. The flexible range of application of the easydisi ONE makes it possible to completely disinfect entire floors in the shortest time!
The same applies to guest rooms in restaurants and especially to serviced apartments! In any case, the guest will be happy about a good feeling when checking in at your hotel or holiday apartment or enjoying a relaxed evening in your restaurant.
Sports facilities | Fitness centers | Changing rooms
Equipment, cloakrooms and wet rooms require special measures
Not only since Covid19, cloakrooms in sports facilities, fitness centers or swimming pools have been neuralgic points in the spread of germs despite strict hygiene regulations. Intensive use at special times and phases makes it impossible to ensure a truly germ-free environment. You can counteract this stress with targeted use of the easydisi ONE, which ensures a germ-free environment in the shortest possible time. Your customers will thank you for it!
Nursing home | Retirement home
Exceptional protection for a particularly sensitive group
These areas are unusually exposed locations with frequently changing care personnel and a large number of visitors. Both the residents of these institutions and their carers have the right to the best possible protection in all areas – from private rooms and staff lounges to public spaces to which visitors also have access. With the easydisi ONE germs can't stand a chance!
Practices | Studios | Offices | Laboratories
The easydisi ONE: variable and flexible in every aspect
The seminar rooms in your office are well booked? In your yoga studio you are happy about a lively customer response? Your physiotherapeutic practice is running at full speed? This environment offers germs and bacteria an optimal breeding ground. Regular disinfection provides remedy. Depending on the size of the room, the easydisi ONE will do this within a very short time. For example: For 80m² the easydisi ONE needs just 15 minutes before you can continue to care for your patients, customers or seminar guests in a completely germ-free environment.
10 good reasons for easydisi and disinfection with UV-C light:
Kills bacteria, viruses and yeast within seconds
Neutral in taste and scent
No development of health endangering products
Free of chemicals
Wide range of applications
Low-maintenance
Easy to use – no filter cleaning
Highest form of operational safety
Low costs – no filter change
Made in Austria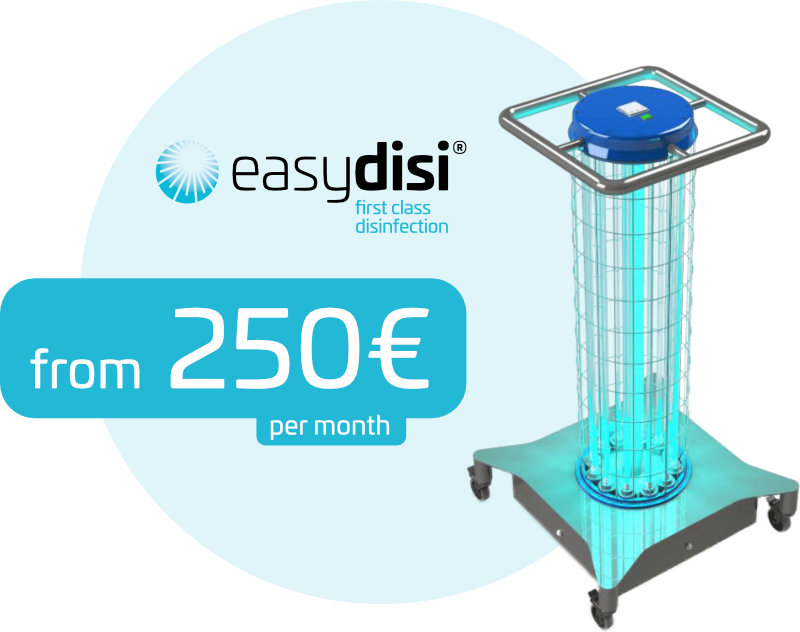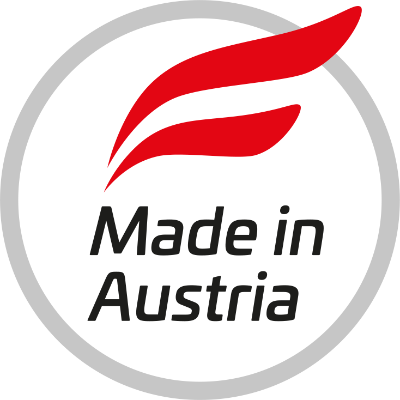 In just 3 steps and a maximum of 15 minutes to a disinfected room
Position the easydisi ONE inside the room
Activate the timer and leave the room
After the set time the picked area is disinfected: really easydisi!
Just plug it in and leave the room. The rest will be done by the easydisi ONE itself.
Up to 80m² per usage
Your financing options

:
Buy from € 12.990,-
Lease 36, 48 or 60 months from € 250/month
Please fill in the form and we will be glad to make you an individual offer.
Imprint
Disclosure according to §25 Media Act:
Owner: Albatros Holding GmbH
The website provides information on the activities of the Albatros Holding GmbH companies
Information obligations according to the ECG / Media Act:
Commercial Register Court Vienna
FN 186786k
UID: ATU48400500